Recreational and Private Pilot Licences
With as little as 25 hours' flight training you could become a member of the worldwide aviation community, opening the door to a new way of travelling and enjoying the world.

A Recreational Pilot Licence (RPL) allows you to be pilot in command of an aeroplane and carry a passenger up to a distance of 25nm from your home airfield.
Requirements
Flight time – The minimum flying experience required is 20 hours' dual (with an instructor) and 5 hours' solo.
Theory – Before you obtain your RPL you will need to pass Pre-Solo and Pre-Area Solo Air Legislation Exams, a Radio Exam and a Basic Aeronautical Knowledge Exam. Your experienced WardAir instructors will guide you through this theoretical training.
RPL Further Options
Once you have achieved your RPL, you may want to add to your skills and fly further afield by completing some of the following endorsements:
Flight Radio – allows you to operate an aircraft radio;
Recreational Navigation – allows you to fly cross country i.e. beyond the training area and further than 25nm from your home airfield;
Controlled Aerodrome – allows you to fly at aerodromes with control towers;
Controlled Airspace – allows you to fly in airspace managed by air traffic controllers.

If you want to broaden your horizons or are considering more advanced flight training in the future, a Private Pilot Licence (PPL) allows you to fly larger, more powerful aircraft and to carry more passengers.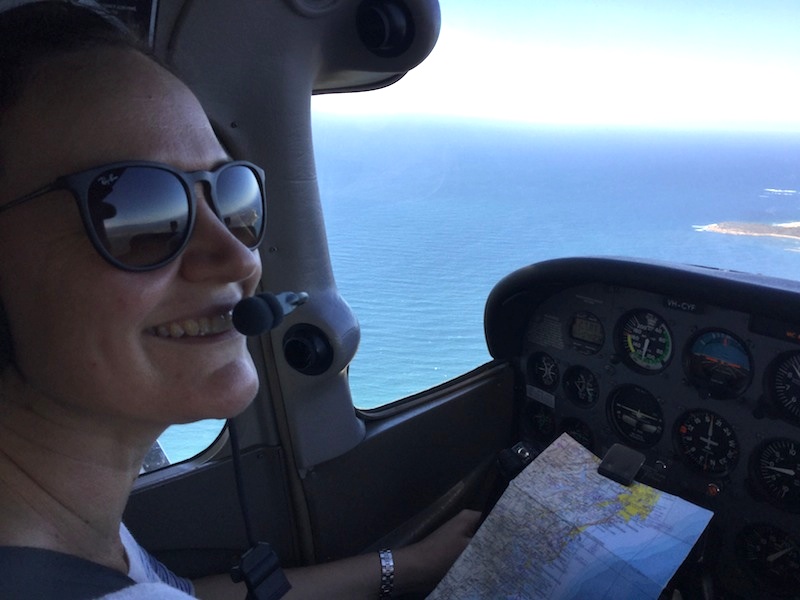 Private Pilot Licence (PPL)
Your training can take you as far afield as you want to go but certainly to other aerodromes such as Mudgee, Canberra and Bankstown and over the wonderful scenery of the Blue Mountains and even around Sydney Harbour. On completion of your PPL you will be able to fly yourself, friends and family anywhere in Australia. You are not permitted to charge for your services as a pilot without holding a Commercial Pilot Licence (CPL) but you are permitted to cost share with your passengers.
Requirements
Flight time – The minimum flying experience required is 40 hours, which must include at least 10 hours' solo flying whereby 5 hours' must be cross-country flights.
Theory – In addition to the exams required for an RPL licence (see above) you will be required to sit a PPL Theory Exam set by CASA.
PPL Further Options
Once you have achieved your PPL you may want to add to your skills by learning to fly at night, on instruments in Instrument Meteorological Conditions (IMC) or in multi-engine aircraft. The following ratings/endorsements are open to a PPL holder:
Night Rating (NVFR) – allows a private pilot to fly at night in good weather conditions and requires an additional 10 hours' flight training;
Private Instrument Rating (PIFR) – authorises a pilot to fly an aircraft under instrument flight rules (IFR). You must complete at least 20 hours of instrument training. There is also a PIFR theory exam;
Instrument Rating (IR) – allows you to fly through cloud and some inclement weather and takes an additional 40 hours' (minimum) training and involves an IREX theory exam;
Manual Pitch Propeller Control (MPPC) / Retractable Undercarriage (RU) – Typically faster aircraft feature a constant speed unit propeller system and sometimes retractable landing gear. These and other design feature endorsements give you access to faster and more complex aircraft;
Multi Engine Endorsement (ME) enables you to fly aircraft with more than one engine and takes an additional 7 hours' (minimum) training.
Learning to fly involves some paperwork!
You need first to register with the Civil Aviation Safety Authority (CASA) and obtain an Aviation Reference Number (ARN). After that you can apply to get a medical certificate appropriate to the class of licence you plan to seek. Finally, you need an Aviation Security Identification Card (ASIC) to be able to access many aerodromes in Australia.
How you approach your flying is up to you!
Whether you want to train for a day, a weekend, a week or a month at a time, at WardAir we will design a program of theoretical and practical flight training to meet your particular needs.